Sunflowers and blue skies wedding theme
A very lovely young lady chose Sunflowers and Blue Skies wedding theme for her special day. For the second time in my life I became a wedding planner. Getting ready for this celebration of love was a very special one for several people involved. Besides, the wedding theme was something I'd choose myself.
More...
The wedding ceremony was very special and the reception afterwords turned out great. Several guests told me times and times again how to them that was the most beautiful wedding they'd ever attended in their life. Words can't even convey how good that made me feel!
Below are the wedding invitations and all the other printed material we've used for that unforgettable event. Maybe these examples can help you plan your walking-down-the-isle day.​
---
Sunflower postage stamps in any denomination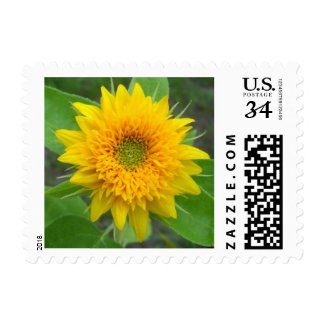 Sunflower postcard stamp horizontal
by
DariArts
Create unique
custom postal stamps
online at Zazzle.
---
Sunflower wedding invitations, custom, with envelopes
---
Custom sunflower RSVP cards with envelopes
---
Custom address labels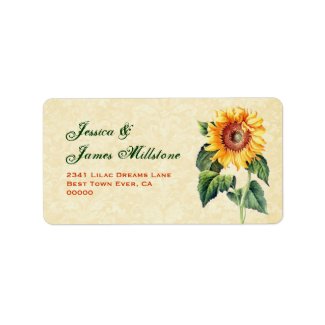 Gold Vintage Sunflower Label
by
JaclinArt
Look at Jaclinart Labels online at
Zazzle.com
---
Custom return address labels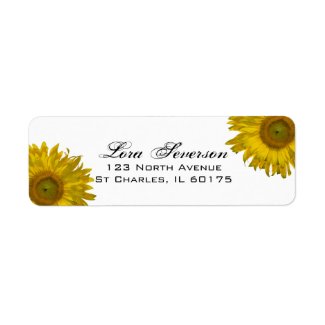 Yellow Sunflowers Label
by
loraseverson
Browse more Sunflowers Labels at
Zazzle
---
Heart shaped envelope sealers
---
Custom "Welcome to the Wedding" banner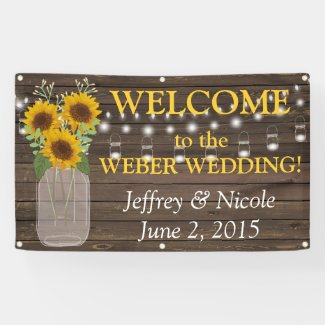 Country Sunflower Custom Wedding Banner
by
My_Wedding_Bliss
See more Wedding Banners at
zazzle.com
---
Update:
Four years later, the young couple's skies are still blue and the sunflowers abound. Even better than that - a precious little baby girl immensely enhanced their bond and she keeps bringing sunshine into everyone's life.
---