Three colorful flowers in brown vase
While every flower color holds its symbolic meaning, a colorful bouquet might be most attractive and uplifting to many. When arranged in a delicately designed vase, the effect just might turn out to be stunning.
More...
A beautiful vase will definitely enhance or compliment most any decor and make the living space more stylish and inviting, even with no blossoms.
I love putting together dry or fresh flower arrangements so I love looking at the pretty vases of all colors, shapes and sizes, especially those made of glass, wood or clay. Natural materials appear most beautiful and uplifting to me, maybe because to my heart they feel like a link to the very earth's magic itself... :)​
The flower arrangement above I designed on canvas and therefore it's timeless - and suitable for most any inspiriting occasion​.
---
Three bright blooms in a brown vase, laced with gold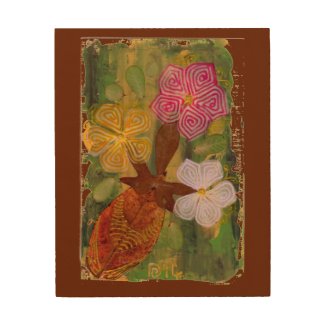 Three Flowers In Vase fine art wood wall art
by
DariArts
Find more Fine Wood Wall Art at
Zazzle
---