A perfect shipping label or custom address label
When you are mailing to the same person/address over and over again, it really makes sense to just have a printed shipping label handy - to stick it on any mail piece and be done as fast as possible.
More...
I have a handful of people like that in my life​. They are eagerly awaiting my next letter with another photo story (or a few of them!). And that's why I tried all kinds of techniques of addressing my mailings.
After experiencing a hassle of printing the labels myself - which takes endless trial and error attempts and many ruined sheets with labels - until I bought a new printer and had to go through the same procedure again.
Hence I prefer to take the path of least resistance these days. I let the professionals do the printing job. The quality of their prints is persistent and reliable. All I need to do is pick a design and (only once!) customize it to my needs. And reordering is a breeze, of course.
I've always been big on aesthetics so I like for my shipping labels to have an image on them, not only the address, no matter how fancy the font might be. A few months ago I came across this one design that really looks nice, no matter what the season. At the same time, it doesn't overpower the address on the label. That's why I keep reordering these custom address labels below with Bird of Paradise tropical flower on it. Check it out if you like it, too!​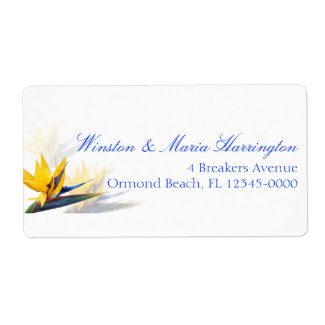 Bird of Paradise Tropical Skinny Address Label
by
sandpiperWedding
View more
labels
on zazzle.
---
Starfish and Plumeria Blue Return Address Label
by
sandpiperWedding
Design your own
personalized address labels
on zazzle
---
The Vintage Airmail Wedding Collection Label
by
Invitation_Republic
Design unique
photo address labels
at zazzle.com
---
---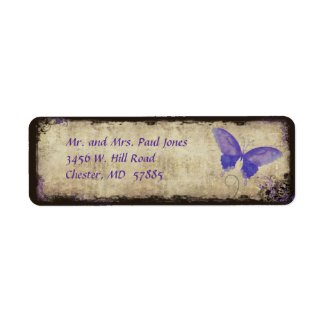 Vintage Purple Butterfly Return Address Label
by
DaisyLane
Check out more Wedding Labels at
Zazzle
---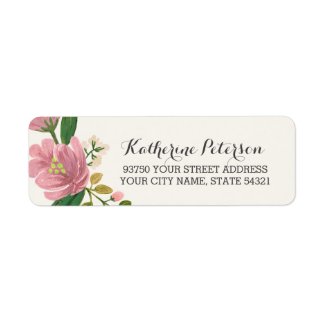 Blush Bouquet Label
by
origamiprints
Shop for a
address label
on zazzle
---