Delicate Rose surrounded by Red Hot Passion
Roses are delicate, yet most of them come with thorns. Maybe it's that sharp contrast that makes them so sought after and appreciated around the globe.
More...
The meaning of "red hot" actually comes in variety of shades, from passionate love/relationship some people dream about, to metal heated to the point when it starts glowing red, to keen/excited/eager/enthusiastic, to another extreme furious/violent, to preferred by media red-hot information, and in Australian slang extreme-unreasonable-unfair.
Little research on the topic makes me feel that red is also the color of contrasts, maybe more than any other color of the spectrum.
"Red is the color of fire and blood, so it is associated with energy, war, danger, strength, power, determination as well as passion, desire, and love. Red is a very emotionally intense color. It enhances human metabolism, increases respiration rate, and raises blood pressure.​"
Source
Delicate rose, on the other hand, is a symbol of purity, beauty, femininity and gentle love and appreciation to no end. Probably my most controversial piece to date.
---
Red Hot Passion and Delicate Rose on stained glass background - wood wall art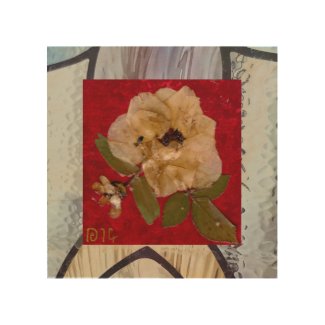 Red Hot Passion & Delicate Rose wood wall art
by
DariArts
Shop for Fine Wood Wall Art online at
Zazzle.com
---